It has been more than 120 years since Alessandro Berluti put his name on the house's first pair of shoes. From the very beginning, Berluti has stood apart through its unique combination of technical skill and creative flair, firmly grounded in bespoke know-how. Berluti has partnered with Veldt to create an ultralight helmet combining a carbon fiber shell and edges underlined with patinated venezia leather as well as a handmade leather visor and eyeshade. Biking style at its best.
We can spot Veldt helmets used by Pharrell Williams and the riders of his gang in the advertising for Pharell Capsule with Chanel
With years of experience in the motorcycle industry, Aether has partnered with us on a very special collaboration benefitting Riders for Health, a nonprofit organization that uses bikes to provide healthcare to rural villages in Africa. They gave our shell to 13 artists to create unique works of art.
All of the proceeds from the helmets benefit riders for health, which has used motorcycles to mobilize health workers in seven African countries since 1989. Among the many serious problems in rural Africa is the almost total failure of ordinary mechanical transport due to hard-to-access roads. Riders for Health works tirelessly to combat that issue and increase access to vaccinations, emergency services, and medicine, all of which helps fight the spread of aids. The purchase of this one-of-a-kind helmet directly benefits the nonprofit.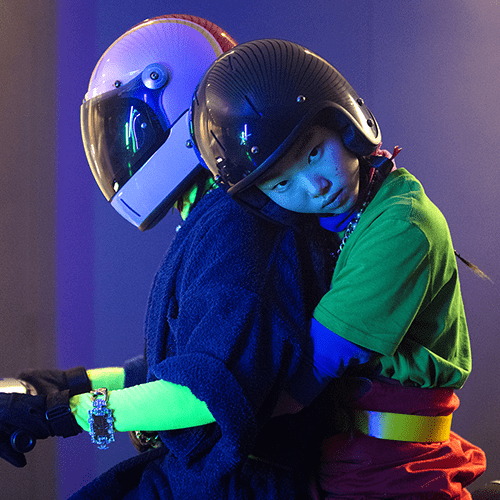 partnerships
We're always looking for new ways to collaborate with brands, artists, and creators from around the world. Our Collaboration Edition helmets are the result of these partnerships, resulting in helmets that are truly one-of-a-kind. We understand that some luxury houses prefer minimal branding on their products. That's why we offer the option to reduce the Veldt branding to a minimum, allowing their brand to take center stage.